The Setup Manual for VIPTel webPhone
To activate VIPTel webPhone, contact our sales department on +421 (0)2 20 28 20 28 or at sales@viptel.sk.
This manual will assist you in setting up the following:
VIPTel webPhone Call Settings
After you log in to theCustomer Zone/PBX Manager, click on the VIPTel webPhone icon in the right part of a display

To register your phone number/extension, click on a gearwheel symbol

In the Phone Settings section, select the number you wish to set up from the offer.

After you select the number, do not forget to register it by clicking on the button "Log in to the number/extension"

5) If you manage to register the number successfully, a green dot will show up next to it. You can also de-register the number/extension in this section by clicking on "Log out the number/extension"

BLF Settings
The BLF functionality will allow you to see an overview of other extensions, i.e. it will display a status of an extension and indicate whether a call is ongoing on the given extension (red light) or the extension is available (green light).
1) To add an extension to the BLF list, click on the gearwheel (1) and BLF Settings (2) in the menu. Then, select extension numbers (3) for which you wish to enable the BLF functionality, and confirm your choice by clicking on the Save button (4). The selected BLF will show up in the lower-left corner of your phone (5).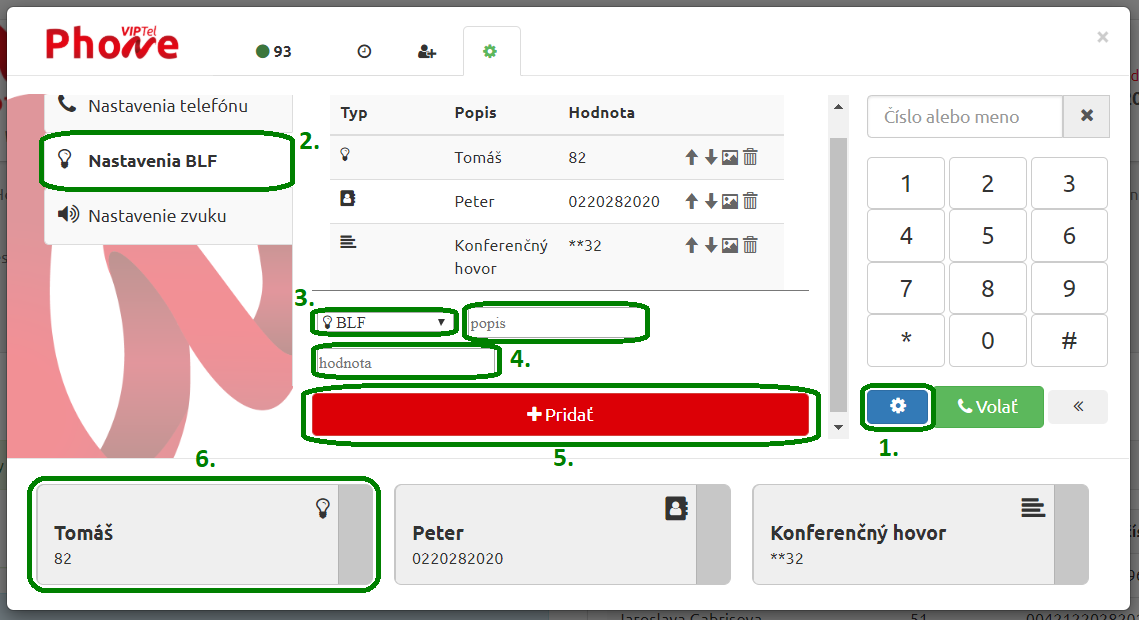 Sound Settings
6) You can choose from multiple devices to play and record sounds in the Sound Settings section (1). In this section, for example, you can enable ringing on inbound calls from speakers, but after you pick the call up, the sound will only be heard from a headset.
7) In order that we help you to choose the right device, feel free to test the devices in the Test your sound devices section (2).