What is a VIPTel landline?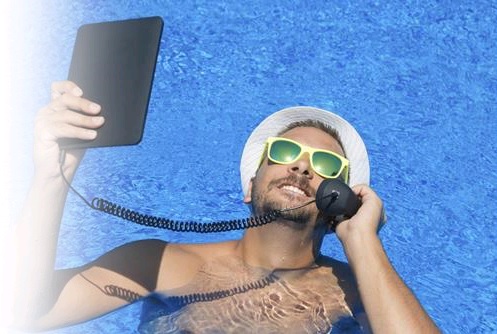 The VIPTel state-of-the-art landline is more advantageous than a standard analogue landline. VIPTel offers VoIP calls, or in other words, calls over the Internet. VoIP stands for "Voice Over Internet Protocol", which denotes voice transmission through an internet protocol. It is thus possible to make and receive calls on any location with the available internet connection. Thanks to our state-of-the-art technology and numerous advantages that VoIP offers, VIPTel is suitable not only for households but also for businesses.
Main advantages of the VIPTel landline and VoIP calls are:
Affordable calls and low tariffs to all networks without any binding contract period
Pre-paid plans for the household landline from € 0 per month
Low-cost pre-paid plans for the corporate landline from € 3 per month
Original VoIP apps for landline calls from a notebook or a mobile phone
Possibility to set up a single phone number on several devices simultaneously
Several concurrent calls through the single phone number or a possibility to use several voice channels
Additional services such as a virtual PBX, special phone numbers, bulk SMS and lots of others.
Our services are comfortable and flexible:
No need to go anywhere to establish VIPTel services. You can arrange them from your living room or office
You can fill in an order form online and start using our services soon afterwards
Document sending through a secured web interface
We deal with all requests by phone, via e-mail, or through chat on our webpage
Devices ordered to our plans are delivered configured and ready for use, and by a courier
What devices can be used with our landline?
Desk phones or Cordless phones
| | |
| --- | --- |
| | The analogue phone with a converter - If you own an analogue phone, you can use our modern landline with your phone using VoIP converter which will connect the phone with the Internet |
| | The VoIP desk phone - You can find several models of VoIP desk phones in our offer. Choose any as you wish from our offer: simple office models, phones for call centers and front desks, managerial models with advanced functionalities. |
| | The VoIP cordless phone - It is handy for households or offices. The phone is practical, portable, ready for use if you need to change positions or move freely while having a phone call. More information. |
| | The videophone - Advantages of the videophone are touch controls and video calls. You can use the phone like a tablet or a smartphone and browse breaking news, read weather forecasts, or play games. |
Software applications
| | |
| --- | --- |
| | For PCs and notebooks - You can also use our services directly on your notebook or PC through a software phone. Try our VIPTel webPhone! To use the app, just log in to through your web browser or install one of VoIP apps depending on your operating system. We recommend using a headset up for a better calling experience. |
| | For smartphones - Have your landline on your mobile phone always on you. We exclusively provide our customers with our VoIP app – VIPTel Phone for iOS and Android operational systems. You can also set up our account in apps made by other producers. List of recommended VoIP apps for Android and iOS. |
| | For tablets - The tablet is perfect not only for transmission of sound but also for visual transmission because you can see your loved ones better on the tablet than on a smartphone, and the tablet is also easily portable compared to a computer. Try using your tablet for calling with VoIP apps recommended by us. |
PBX
| | |
| --- | --- |
| | PBX - It is a complex solution for small and medium-sized enterprises, which brings many advantages ranging from basic functionalities such as extensions, voicemail, call switching, up to advanced functionalities such as interactive voice response (IVR), calls recording, virtual fax, and lots of others. As a part of our offer, you can use a virtual VoIP PBX, but our services can also be configured into your PBX. |
Fax
| | |
| --- | --- |
| | The analogue fax with a converter - If you own analogue fax, you can continue using it for our services thanks to VoIP converter. |
| | The fax supporting SIP - If you have a multifunctional printer with fax and internet connection, you can use your VIPTel number to fax comfortably from that device |
Intercom
| | |
| --- | --- |
| | The door-opening intercom - In addition to a classic intercom with a bell, which almost every house has now, you can also use our VoIP services with video intercom or for gate-opening with your phone. In addition to the device offered on our webpage, we will be happy to ensure an intercom device for you according to your requirements. |