VIPTel webPhone


Browser based phone
Make and receive calls through a landline from your computer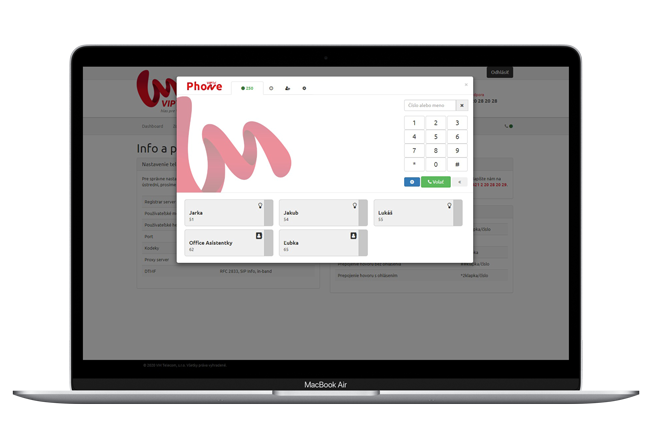 Check out our web phone – VIPTel webPhone 3 months for free
One of the biggest advantages of VIPTel webPhone is its availability. Since the web phone is a part of the Customer Zone or PBX Manager web interface, you only need to log in to your account to make phone calls. If you deal with your phone calls using a computer, VIPTel webPhone is the right software for you. In addition to internal systems, documents, and applications which you use at work regularly, you can also have a phone on your computer.

We recommend Google Chrome, to use the app, and thus you can call with VIPTel webPhone through Windows, macOS as well as Linux.
If you are interested in activating the app, do not hesitate to contact us.


Functionalities of VIPTel webPhone
Synchronization of a contact list - Synchronization with your phone contacts in PBX Manager ensures the simple and comfortable searching of contacts
Integration with an internal system - VIPTel webPhone can be interconnected with your CRM system, and you can open an account of an existing customer who is calling you with a single click
Inbound call notification - You will be notified of an inbound call with a browser notification on which you can click, and a VIPTel webPhone window will open up
Call switching - If call switching is activated within our service or in PBX, this functionality can also be used with our web phone
Auxiliary buttons - Your favorite auxiliary buttons can be used in various ways. They simplify the use of the phone:

Speed dial - The functionality saves the most frequently used contacts to which you subsequently can make calls with a single click
BLF buttons - Thanks to this BLF functionality, you can follow activity of an extension which is currently switched on in real-time. If the button is red, a call is ongoing on the extension, and you know that your colleague is busy at that moment. If the button is blinking, a call is ringing on the extension, and you can pick it up with a single click. The functionality is especially appreciated when you know that your colleague is not around the phone and you can pick up the call without standing up and walking to their desk.
Functional code - The functional code can be used for various actions such as call forwarding as well as to log in to a ringing group, or change a time limit, and for many other functionalities.
VIPTel Phone add-ons
Receiving and rejecting calls with a toolbar button - Accept call & End call
For the most comfortable use of VIPTel Phone, we have prepared two add-ons for you. By installing add-ons "Accept Call" and "End Call", the for receiving and rejecting the call will be added to your upper toolbar. No more clicking through a tab with open VIPTel webPhone when your phone rings. Just click the toolbar button.



You can download the Accept Call and End Call add-ons in the Chrome e-shop for free.
Call dialing with a single click – VIPTel Click
VIPTel Click is a useful app with which you will never dial the wrong number. This tool makes it possible to dial a phone number by clicking on a number shown on any website. Just select the number which you want to dial, click on it with the right mouse button, and select the option "VIPTel Click". If you use various identities to make phone calls, you can save them in VIPTel Click settings, and before dialing, select the identity you wish to use.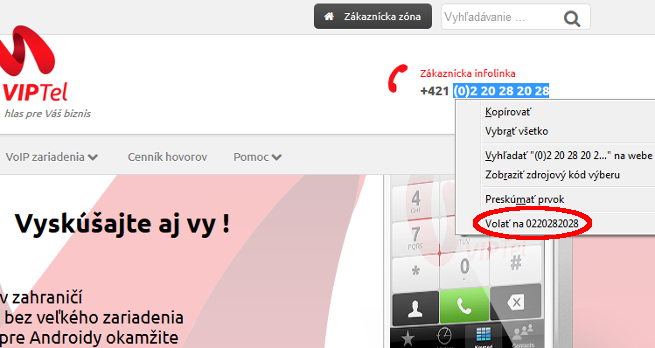 VIPTel Click Setup Manual for Mozilla
VIPTel Click Setup Manual for Google Chrome
Are you interested in our web phone VIPTel webPhone?
Try out also our VoIP VIPTel Phone App pforre iOS and Android and make calls using your mobile phone with VIPTel.